Name:Metal Sonic
Origin:Sonic the Hedgehog CD
Title: Master of Living Things
Classification: Robot Created by Eggman Designed off Sonic
Tier:7-A--6-C--6-B--5-B to Possible 5-A
Abilities and Powers:Super speed, Super strength, Extreme acrobatic skills and reflexes, Copying opponents' Techniques, Rocket-propelled flight, Waterproof hardware and frame, Plasma pulse chest laser, Clone Physiology(Clone of Sonic), Bionic Physiology, Weaponized body, Gun Protrusion, Adoptive Muscle Memory--Shapeshifting,Telescoping limbs, Can shoot Lightning Bolts, Copying Techniques, can do everything his base form can, Metal Manipulation--Copying opponents' Techniques, Flamethrower, Missile shooting, Crystal generation, Super strength, Tail sweep--Flight, Copying opponents' Techniques, Homing missiles, Crystal imprisoning, Claw missiles, Super strength, Crystal projectiles, Super speed
Techniques and Weapons:
Black Shield(a shield that is impentrable)
Copycat(copies other characters abilities)
Plasma Pulse Attack( a lazer wave fired from his chest)
Ring Spark Field(Destructive Field of Electrical Discharges)
 V. Maximum Overdrive Attack( a Powerful Attack that can penetrate through anything)
Neo Metal Sonic
Can do everything his base form can
Metal Madness
Metal Overlord
Crystal Attack(Sends chaos energy in forms of crystals at enemies)
Destructive Capacity:Island Level(Similar to Sonic)--Country Level(stronger than base form)-- Continent Level(Stronger than Neo)--Planet Level to Possible Large Planet/Multi-Planet Level
Durability: Island Level--Country Level--Continent Level--Star Level
Weaknesses:If he tries to go to fast he will destroy himself
Speed: LS+--LS+--Stationary--Massive LS(is Able to Keep pace with Super Sonic) Overall Tier 6
Stamina:Limitless(for all transformations)
Striking Strength: Class PJ
Lifting Strength: Class 5
Intelligence:Super computer intelligence, was able to overthrow Eggman
Key: base--Neo Metal Sonic--Metal Madness--Metal Overlord
Combat Record: Closest Character to defeating Sonic. Tookover Eggmans Empire at one Point, in Metal Overload Form it took 3 Superpowered Characters to defeat him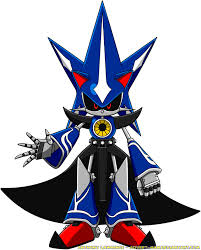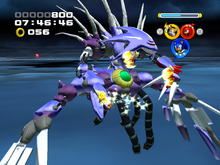 Ad blocker interference detected!
Wikia is a free-to-use site that makes money from advertising. We have a modified experience for viewers using ad blockers

Wikia is not accessible if you've made further modifications. Remove the custom ad blocker rule(s) and the page will load as expected.