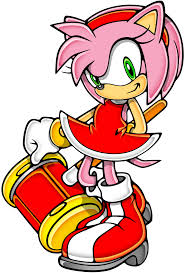 Name:Rosy the Rascal or Amy Rose
Origin: Sonic the Hedgehog CD
Classification: Anthropomorphic Hedgehog
Tier: 9-C
Abilities and Powers: Super speed, Piko Piko Hammer skills, Capable Extreme Gear rider, Great physical strength, Acrobatic skills, Cartomancy, Can summon her Piko Piko Hammer, Invisibility, Tornado Creation, Card Manipulation
Techniques and Weapons:
Low Blow(She hits her opponent which would make them vulnerable to attack)
Propeller Hammer( allows her brief flight)
Storming Heart( a Whirlwind of hearts that damage the enemy)
Swinging Hammer Attack(Spins around with her hammer)
Tantrum( Amy gets mad and starts swinging her hammer all over the place)
Tarot Draw( can curse people)
Tornado Hammer( creates a tornado with her hammer)
Destructive Capacity: Small Building Level
Durability: Building Level
Weaknesses: She would let the destruction of the world happen just as long Sonic is alive, Sometimes doesn't want to defend herself
Speed: Hypersonic: Tier 3
Stamina: Pretty High
Striking Strength: Class MJ
Lifting Strength: Superhuman
Intelligence: Average Intelligence
Combat Record: Fought Nocturnus Clan Soilders
Ad blocker interference detected!
Wikia is a free-to-use site that makes money from advertising. We have a modified experience for viewers using ad blockers

Wikia is not accessible if you've made further modifications. Remove the custom ad blocker rule(s) and the page will load as expected.